Look Out!
It's Adam Tyner.
Y'know, the full-stack web developer from Greenville, SC. This guy: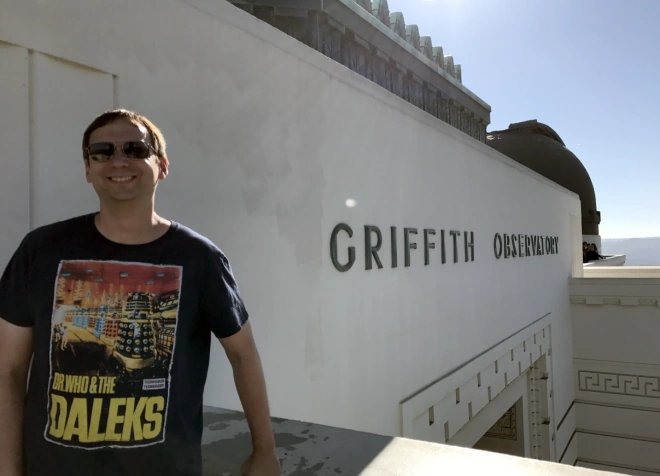 What I Do
I have 23 years of professional experience as a full-stack LAMP dev. I eat, breathe, and sleep PHP, jQuery, and MySQL / MariaDB, along with a bit of Python. I've been with www.10best.com since 2001 and currently hold the title of Senior Software Engineer at its most recent incarnation, USA TODAY 10Best. I'm deeply collaborative, love to experiment, and enjoy seeing projects through from concept to completion.
My responsibilities encompass all things technical for the 10Best group, including the entirety of the front-end codebase (server-side and client-side), creating and maintaining tools in our proprietary CMS, behind-the-scenes scripting, syndication tools, maintaining numerous AWS instances, database administration, analytics and reporting, search engine optimization (both in terms of keywords and Lighthouse-style metrics), and project design and management.
Among the highlights:
I architected and coded the Readers' Choice Awards product, which has amassed tens of millions of votes since its inception. This includes fraud detection, automated email outreach to nominees, and robust reporting suites.
I architected and built an image management system supporting more than a quarter-million photos to date, automatically accommodating numerous resolutions and logging image sourcing in case of copyright disputes.
Saving multiple work weeks a month for 10Best's editorial staff, I moved the entirety of the content creation process into our CMS: fielding freelancer-submitted pitches, sending out assignments that our contractors can accept or reject, email notifications to confirm that assignments are completed on time, automated validation to ensure that submitted work meets minimum requirements, and streamlined invoice generation.
I developed a drag-and-drop interface to generate newsletters for 10Best's million-plus subscribers. The foundation of a newsletter send can be constructed in literally seconds.
I've also contributed to a number of other Gannett products. To name just a few:
I led analytics efforts across Gannett properties for Google Web Stories.
I automated reporting for several USA TODAY Sports Media Group sites, such as MMA Junkie and The Big Lead, leveraging Adobe Analytics' APIs.
I built a proprietary CMS and supporting APIs for Gannett's Destinate pilot: a location-based product highlighting locally owned restaurants for travelers.
I supported The Greenville News by automating the importing and processing of real estate transactions, crime reports, and jail records.
Under earlier incarnations of 10Best, I also built a CMS for aggregating tours from numerous providers, wrote and maintained software for white-label travel guides for clients as varied as AT&T and Priceline, designed and built a system for Carlson Rezidor to manage translated copy, and developed bespoke CMSes and location-based web apps for numerous hotel groups. Fairmont, Accor, Carlson Rezidor, Wyndham, and InterContinental Hotels Group are among the hotel clients I supported.
At the company's peak, 10Best's travel guides – both for our B2C site and our many clients – featured approximately 500 metro areas and around 200,000 points of interest.
More About Me
But wait! I'm not all dry, technical details. Some fun facts about me:
At least two characters on TV shows have been named after me: a one-off love interest on Big Wolf on Campus and a recurring attorney on CSI: Vegas.
Among my claims to Z-list celebrity are founding the first-ever Masters of the Universe fansite 28 years ago, which has since evolved into he-man.org. This led to me being a panelist at Power-Con 2017, being drawn into a mini-comic, and thanked in more books and DVDs than I can count.
I have a voracious appetite for movies and still avidly collect Blu-ray and Ultra HD Blu-ray releases on-disc – 3,931 titles strong at this point. I wrote a column about schlock cinema for High Def Digest, have written technically-oriented reviews for DVD Talk for 24 years, and basically built a house with Dolby Atmos / DTS:X in mind.
I once danced behind Corey Feldman in a fake night club in Montréal.
I collect oddball instruments and effect pedals. My office is decked out with a bank of Moog synthesizers, an Etherwave theremin, an electric kazoo, the same model of ring modulator they use to do the Dalek voices on Doctor Who, a Korg Miku, and an Earthquaker Rainbow Machine, among many, many others.
Undeterred by my lack of musical ability, I recorded a song for a They Might Be Giants tribute album, which somehow won out over actual bands.
I went to Clemson University for four years (B.S., Comp Sci with an applications emphasis in Business) and never attended a football game. But I did love Upstate South Carolina enough that I moved back after graduating and have been in the Greenville area for 23 years since. I haven't quite met my goal of eating at every BBQ joint in town, but I'm very close.
Contact Me
I'd love to hear from you, whether it's about collaborating on a project together or just talking tokusatsu. (If it helps get a conversation going, Invasion of Astro-Monster is my favorite Godzilla flick, Gamera vs. Guiron is my favorite Gamera movie, and Ultraseven is my favorite Ultra brother.)
I'm not on social media much anymore, but you can find me on LinkedIn (if it's not hibernating) or send me an email using the form below: